Sculpture is one of the most ancient forms of art - sculpting can be done with many different kinds of materials - wood, stone, marble, metal, ceramics (pottery/clay), plastic, found materials (eg recycling or natural items) - sculptures are usually made by carving, modelling, welding, molding, casting, shaping or constructing with the material.
Sculptures are usually three-dimensional and can be any size, indoors or outdoors, painted or decorated or kept in the colours of the original material.
For thousands of years sculpture has filled many roles in human life. The earliest sculpture was probably made to supply magical help to hunters. After the dawn of civilization, statues were used to represent gods. Ancient kings, possibly in the hope of making themselves immortal, had likenesses carved, and portrait sculpture was born.
The Greeks made statues that depicted perfectly formed men and women. Early Christians decorated churches with demons and devils, reminders of the presence of evil for the many churchgoers who could neither read nor write.
From its beginnings until the present, sculpture has been largely monumental. In the 15th century, monuments to biblical heroes were built on the streets of Italian cities, and in the 20th century a monument to a songwriter was built in the heart of New York City. Great fountains with sculpture in the center are as commonplace beside modern skyscrapers as they were in the courts of old palaces.
The ancient Sumerians celebrated military victory with sculpture. The participants of World War II also used sculpture to honor their soldiers.
This is a statue of the Augustus, the first Roman Emperor.
The Pieta - Michaelangelo, finished in 1500 A.D. - marble
Created by Michelangelo (1475-1564), the Pieta shows the Virgin Mary holding her only son, Jesus Christ, in her arms. Before sculpting the Pieta, Michelangelo was not a very well-known artist. He was only in his early twenties when he was told, in 1498, to do a life sized sculpture of the Virgin Mary holding her son in her arms. In about two years, from a single slab of marble, Michelangelo created one of the most beautiful sculptures ever.
Pania of the Reef - Napier - 1954 - bronze
http://www.kiwikiwikiwi.com/photo-3413092997-PaniaoftheReef.html
From the Napier City Council website:
A Maori legend tells how Pania left the sea people to marry Karitoki, a chieftain whose whare (house) was sited in an area now known as Sturm's Gully on Napier's Bluff Hill.
After Karitoki departed to fight in a long tribal war, Pania's original family called to her at sunset and at dawn. Unable, finally, to resist their siren voices, she swam out to meet them. When she attempted to return to the shore, however, she was drawn down to the caverns of the sea. Angered by her divided loyalties, Moana-nui-a-kiwa, lord of the sea, transformed her into a rocky shelf. Lying off the Napier breakwater, the beautiful sea creature is immortalised as Pania's Reef.
The statue of

Pania of the Reef

was presented to the city in 1954 by the Thirty Thousand Club. Vic Wallis, a member for almost 40 years, and Horace Cottrell, another member and enthusiastic supporter, conceived the idea of perpetuating the Maori legend after hearing the story from F A Bennett, the first Bishop of Aotearoa (New Zealand), when he was on a tour of Napier.
The Thirty Thousand Club was formed in 1913, and its members pledged to support the Napier community until its population reached 30,000. After 62 years, when it was nearing 50,000, the club was wound up.
Sited in Napier's Marine Parade Gardens, the bronze statue depicting the beautiful Maori woman is among of the city's most recognised and photographed attractions. It is believed to be the first to perpetuate a Maori legend.
Six students from Hukarere Maori Girls' College were chosen as possible models for the sculpture. The final honour went to 15-year-old May Robin - her face was the model for the bronze founding done by the Italian Marble Company of Carrera in Italy. The statue, which sits on a limestone base, was unveiled by Prime Minister Sid Holland in June 1954.
Cow - Alexander Calder - 1929 - USA - steel wire
http://www.moma.org/collection/object.php?object_id=81347
Alexander Calder was one of the most inventive sculptors of the twentieth century. Before he became an artist, Calder studied mechanical engineering. He was fascinated by how machines work and the way that things move. He used his engineering skills to incorporate movement into his sculpture. Calder made art that is figurative, like Calder's Circus, (1926-31), but he is also well known for his abstract sculptures and mobiles.
Family Koru - Brett Keno - NZ - Oamaru stone
The Chalice Sculpture - Neil Dawson - 2000 - Christchurch, NZ
www.google.com (images - website wouldn't open)
This was created to celebrate the new millenium and the 150th anniversary of the first European settlers' arrival in Canterbury. The chalice has 42 leaf patterns of different native plants of NZ.
Spoonbridge and Cherry
- water sculpture designed by husband and wife
Claes Oldenburg and Coosje van Bruggen
- Minneapolis, USA - 1988
http://travelmamas.com/why-visit-minneapolis-st-paul-minnesota-with-kids/
Spider Maman (Mother)- Louise Bourgeois
- 1999 - seen here in Tokyo, Japan - ribbed bronze
- 10m high, 11 m wide, the sac has 26 marble eggs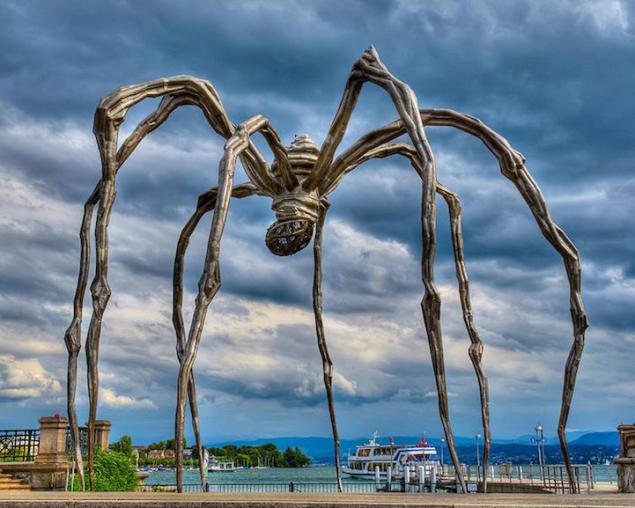 http://bashny.net/t/en/84170

The National Art Gallery of Canada paid $3.2 million for this work!